Pizza Oven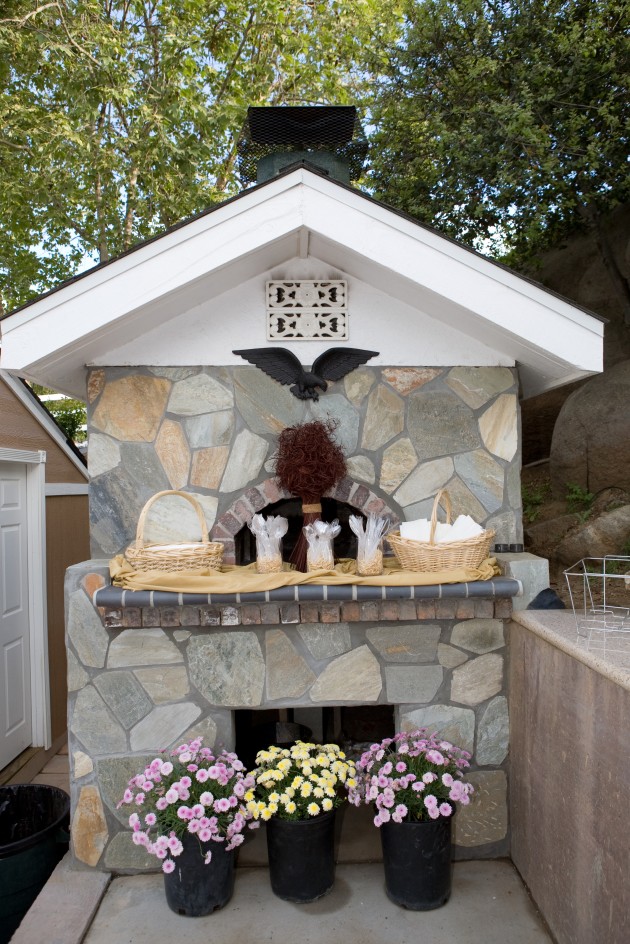 La Bella Cucina (Beautiful Kitchen)
Eagles Nest Wood Burning Pizza Oven
Winemaker Dennis Grimes built our Pizza Oven in 4 weeks. Here at Eagles Nest, we enjoy the time we spend with friends and family eating wonderful foods prepared by our selves and cooked using a little fire in a wood burning pizza-bread traditional oven. Food prepared in our Pizza Oven is visually pleasing, interesting, as well as efficient and economical. The Pizza Oven can cook meats, roasts, casserole dishes, bake cakes and never have to clean the grease inside the oven → ever! It'll burn in the oven's hearth!
What is a wood burning oven?
A wood burning pizza/bread oven is an oven made out of clay adobe, refractory fire bricks or refractory concrete (heat resistant mix made from ingredients that can withstand prolonged high heat conditions). Traditionally, ovens were made using material that wasn't costly and was easy to obtain in nature. Nowadays, we have everything we need to build a wood oven readily available in most refractory and building store yards.
Traditional wood burning pizza-bread ovens and cooking using a gentle fire are simply 'the low TEC highly efficient technology'. So primitive and interesting, it will not let us down.
How to operate the Pizza Oven
A fire is built inside the oven (now you may say: 'I know that, but what's next?' – just kidding). The fire burns, giving off the heat which the heavy oven walls absorb. When the dome chamber inside is heated to flat white-hot, the fire is allowed to die down or kept burning only very gently for longer. The embers can be swept out of the oven or left somewhere aside in the oven.
During the firing, the oven door is open and the flue at the chimney, if there is a chimney, is also left open. When we stop the fire and the embers are swept out of the oven, the door and/or the chimney are closed. The wood oven is then let to rest for a few minutes to allow the heat in the dome to even out, and for the temperature from the fire to drop down a bit. At first, the oven is around 800°F or 425°C perfect for making fast in 90 seconds thin and crispy pizzas, however very nice pizzas are being done also in 300°C – 572°F temp, but it's still too hot for bread. When the temperature has dropped to around 450°F or 230°C, then it is time to put big roasts and other large meals in. Bread goes in last so it doesn't bake too fast on the outside. If needed to convert temperature scales, etc., use the automatic calculators.
How long can you cook in a wood burning oven?
Eagles Nest Pizza Oven cooks pizza in 2 minutes. Once we heat up the very massive oven walls get hot enough to cook easily for a whole day. Traditionally, we cook with the oven's radiant heat, placing foods into the oven right as the temperature reaches the stage appropriate for the food. Julie enjoys preparing meats for Denis to cook or slow-roast in order to achieve very nice tenderness with a smoked flavor.
Wood ovens, particularly ovens made using firebricks, have domes that are only about 4 inches thick (10 cm). If well insulated on outside, then this is perfectly satisfactory for pizza oven and not as much for baking.