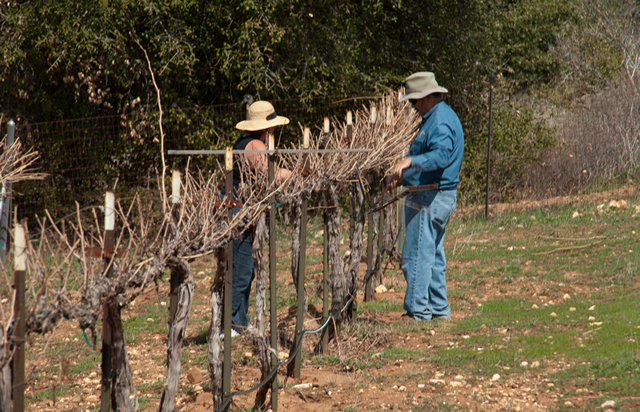 Eagles Nest Winery is located in the scenic rural Ramona Valley
San Diego County's most unique vacation and luxury wine tourism destinations.
The Owners and Winemakers
Eagles Nest Winery is family owned and operated by Dennis and Julie Grimes. The winery and a portion of our vineyards are located on our gated country estate overlooking the west Ramona Valley.
As a testament to the excellent growing conditions of our area, the Eagles Nest property previously hosted an apple orchard (a few stalwart trees remain) and some older grape vines. Later, we extensively planted our family and leased properties with more Vitis vinifera (European grape varietals) to further enable our winemaking.
We have great respect for education, hard work, and practical experience. We have studied winemaking and viniculture with world renowned University of California, Davis. We are both technology professionals and veterans, Dennis is a U.S. Naval Academy (Annapolis) graduate and he retired from a career in Naval Aviation (P-3 Orion aircraft) and Julie served with the U.S. Army.
In parallel lives, Julie is a highly regarded Computer Science professor at local college, where she earned national design awards, teachs e-Commerce and Internet design. She has a reputation for consistently discovering and mastering the latest web and Internet technologies and pioneering use of that material in her coursework. Dennis is a senior program manager and Systems Engineer with the Federal government, and a former, now part-time college IT/Business professor. Many of the college science faculty are close personal friends who enjoy assisting at the Winery during their off hours.
We invite you to experience our wines, the full winemaking experience, and the serene beauty of our private estate including the Winery, vineyards, and stunningly beautiful vacation accommodations – all sharing unsurpassed views of the West Ramona Valley. Rest assured, there is truly nothing quite like Eagles Nest (please see Guest Comments under Guests tab above).
"Premium Wines Inspired by Breathtaking Views"
Our Winemaking Philosophy
As a Boutique Winery we take great personal pride in our intimate hands-on style of winemaking. We are an industry member of The Wine Institute, American Society for Enology and Viticulture, and yes, the Farm Bureau! Our focus is making only quality wine. Our estate vineyards, quality sourcing, and hands-on winemaking give us complete control over the quality of the grapes going into our wines. And as the saying goes "Quality wines begin with quality wine-grapes."
Our red wine varietals include Cabernet Sauvignon, Zinfandel, Merlot, Tempranillo, the Rhone staple Syrah/Shriaz, and others. Our white varietals include the popular Rhone varietal Viognier, and we are experimenting with Picpoul Blanc and others. We are continually researching quality varietals that compliment the Ramona Valley for future vineyards and meet our customer's needs.
Making fine wine is both an Art and a Science
How we maintain our quality:
Make our wines by hand in small releases to allow close monitoring of quality and nuances of each vintage year harvest & grape varietal
Use carefully selected equipment including bladder presses to gently press our grape must – avoiding excess tannins caused by crushed grape seeds and mashed skins
Operate under sanitary, temperature controlled conditions to maintain quality – we encourage visitors to tour and inspect our facilities
Close hands-on monitoring of each barrel during the fermentation and aging process
Close monitoring of vital wine chemistry
Community Giving – Enjoy our custom artwork labels featuring community service organizations. Eagles Nest takes great satisfaction in the opportunity to support community service, charitable, and industry organizations. We donate, or have donated our personal time, services, product, and facilities to these worthy organizations that benefit and better our community and enrich lives.
Eagles Nest Winery is a regular and generous contributor to area charities and organizations including:
Intermountain Fire and Rescue
Ramona Trails Association
Ramona CDF Air Show
Ramona Garden Club
Wildlife Research Institute
Area Religious Organizations
San Diego Amateur Winemakers Society
We actively encourage and support quality winemaking practices and the sharing of enology knowledge, as well as ethical and responsible business practices through our current and past Business and Professional memberships in:
San Diego County Farm Bureau
American Society for Enology and Viticulture
The Wine Institute
Ramona Chamber of Commerce
Julian Chamber of Commerce
Ramona Valley Vineyard Association
Ramona Valley Winery Association
San Diego County Vintners Association
We want to personally acknowledge the unsurpassed dedication and generosity of Mr. Lum Eisenman in advocating quality winemaking in the region as the unofficial regional wine guru and one of the wine makers at Belle Marie Winery, Escondido, California, Lum's legacy of fine wine will forever benefit wine lovers.
We warmly welcome you to Eagles Nest Winery & Cottage and welcome your return visits
Ciao! – Welcome to Eagles Nest Winery!