How was the name Eagles Nest Winery and Cottage chosen?
We chose the Eagles Nest name for several reasons: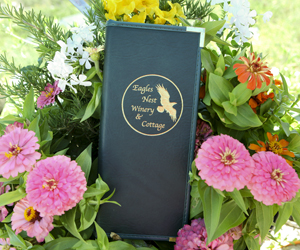 The cottage is perched high on a hillside among natural boulders invoking visions of a majestic raptor's aerie (eagle's nest) with a commanding view or the valley below
Golden Eagles have nested on nearby hillsides and area raptors circle in the open skies above our vineyards
Human flight mimics the flight of the eagle – the Ramona Airport is visible in the distance on the valley floor below
One of the owners retired from a career in Naval Aviation, and is a former Boy Scout – Eagle Scout
Finally, the eagle is a majestic symbol of this great country and the promise of the American Dream honoring hard honest work and the immense opportunity our winery endeavor represents
For scholars of the English language, a closing grammar note – we omitted the apostrophe in the name to simplify our Internet/Web presence – or hopefully you are another of several "eagles" that supports the plural manifestation of our namesake.
With so many wineries, vineyards, and vacation cottages in this nation and globally, it is increasingly difficult to establish a truly unique business name these days – but rest assured while there may be establishments with similar names.
There is only one Eagles Nest Winery and Cottage overlooking the beautiful Ramona Valley in California